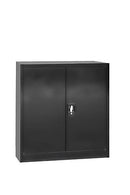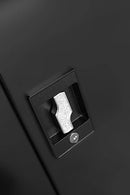 Description
TWO-DOOR SHELF LOCKER CABINET SAFE
Our 2-Door Lockable File Cabinet is a storage unit which really has it all. No matter what you're storing and where, this extremely versatile cabinet has you covered, and is sure to help you get a grip on any storage crisis.
A multi-shelf design with varying heights and dimensions give you plenty of storage flexibility. 2 shelves come with the unit, making this the perfect home or office stoage unit.
The cabinet is constructed with solid cold-rolled steel plate for excellent sturdiness and durability, not to mention an attractive look. The steel is also powder-coated to resist corrosion. The cabinet measures 90 x 85 x 40 cm, and the maximum recommended weight capacity is approximately 40kg per shelf.. Privacy and security are assured with a simple lock and key design on the double doors. The lock comes with 2 keys.
A simple design makes assembly easy, and full assembly instructions are included.
It's time for an affordable, versatile storage solution. It's time for the 2-Door Lockable File Cabinet
FEATURES
2 Shelves, Lockable double-door cabinet
Colour: Black
Cabinet dimensions: 90 x 85 x 40cm
Inner of the door frame: 750 x 765mm
Inner depth of the cabinet body: 370mm
Carton dimensions: 102 x 98 x 8cm
Privacy and security with lock-and-key design
Recommended weight capacity is approximately 40kg per shelf.
Durable cold-rolled steel plate construction
Powder-coated to resist corrosion
Easy to assemble; instructions included
Lock comes with 2 keys
Black
PACKAGE CONTENTS
1 x Two-Door Shelf Locker Cabinet Safe
Payment & Security
Your payment information is processed securely. We do not store credit card details nor have access to your credit card information.