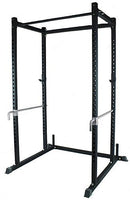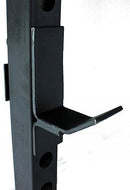 Description
POWER RACK SQUAT DEADLIFT HD LIFT CAGE
This amazing power rack will be such a boost to your workout you'll wonder how you ever got along without it!
Solid, safe and efficient… this power rack will support you in all phases of your workout. This great product will help you perform more effective squats, military presses, bench presses, curls, shrugs, dips and much more.
This power rack is designed with a wide walk-in that allows comfortable movement from side to side for the full range of total body exercises. The rack is adjustable to an amazing 17 positions! It can accommodate different exercises as well as heights.
Order our power rack today! Enhance your exercise routine and get the maximum results from the maximum effort.
FEATURES
Steel construction
1" round steel j-hooks
2" steel tubes
1 ¼" diameter chin-up bar
Weight capacity: 700 lbs
Height: 83"; Opening 44"; Depth 48"
Weight: 107 lbs
Inside front to back bar: 26"
Floor Area: 48" x 48"
PACKAGE CONTENTS
1 x Power Rack Squat Deadlift HD Lift Cage
Payment & Security
Your payment information is processed securely. We do not store credit card details nor have access to your credit card information.