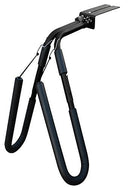 Description
SCOOTER MOPED SURFBOARD RACK
This sturdy and attractive scooter / moped accessory is a safe and convenient way to transport your surfboard!
This versatile accessory will save you time and headaches. Tote your surfboard safely and conveniently to the beach on your moped or scooter. This handy accessory mounts easily to most mopeds and scooters.
The no-rust finish will make this accessory last and last with no signs of wear. The carrier rack can easily accommodate any size surfboard - small and large. The carrier is sleek in design, comes only in black and is light-weight enough for anyone to handle and mount.
Have a fun day - motoring to the beach and surfing the waves!
FEATURES
Sleek, modern design
Mounts to mopeds and scooters
Black in colour
No-rust finish
Lightweight
Looks great
Item Code: NOS-8
Carton Measurement: 41.5x23x11.5cm
Carton Gross Weight: 2.3kg
PACKAGE CONTENTS
1 x Scooter Moped Surfboard Rack
Payment & Security
Your payment information is processed securely. We do not store credit card details nor have access to your credit card information.